Hero Throne
Edit
l.  What's the "Hero Throne?
The Hero Throne opens daily from 08:00 to 23:59 and players can occupy Hero Thrones during this time. Different from other Dungeons, the Hero Throne doesn't need us to battle in real person. You can do other things when occupying and the Hero Throne without being affected. Each player can occupy the Hero Throne for maximum 4 hours every day, after that player will be automatically expelled.
The battle evaluation system is also different from other Dungeons and Events. There are four types of Thrones: Warrior, Knight, Lord and King( from low to high).You can challenge the existing players in Throne according to the Power and Victory Rate.
lI.  How to play "Hero Throne"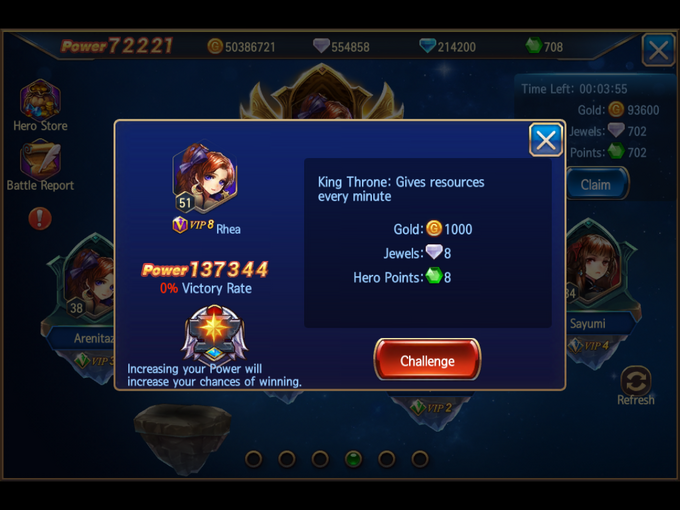 The system will judge the result directly and the winner will occupy the seat. If you are a challenger, there will be a 3 minutes protection time to protect you from being challenged by others and you can't leave your Throne either.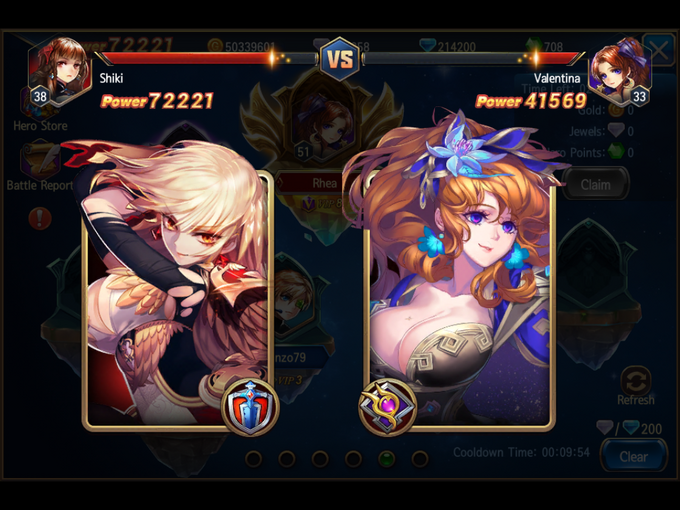 lII.  Rewards
As we illustrated in the last part, the awards vary with different Throne levels. The top King Throne can provide 1000 gold, 8 Jewels and 8 Hero Points every minutes which is really attractive.
The Hero Points can be used to exchange "Magic Card" Pack or Magic Card fragments in the "Hero Store"。 There are also 3 colors of bags and the higher color level (Green, blue and purple) will also provide better Magic Cards. As the color suggests, the purple has the possibility to win a Purple Magic Card (but the bag also including Green, Blue and Purple together).