Gear Cleansing
Edit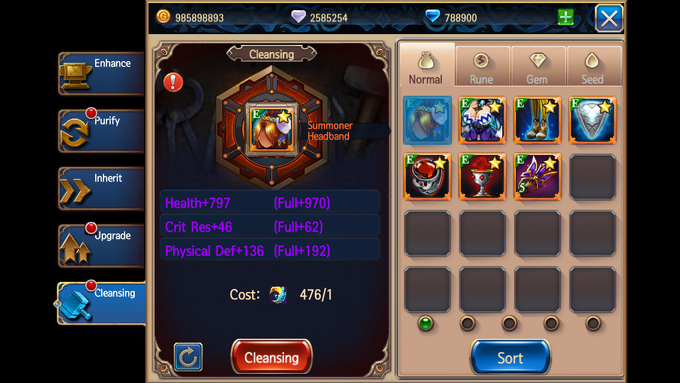 1. At the left bottom of the Gear Interface, you will find "Cleansing" Tag, tap it to enter the interface.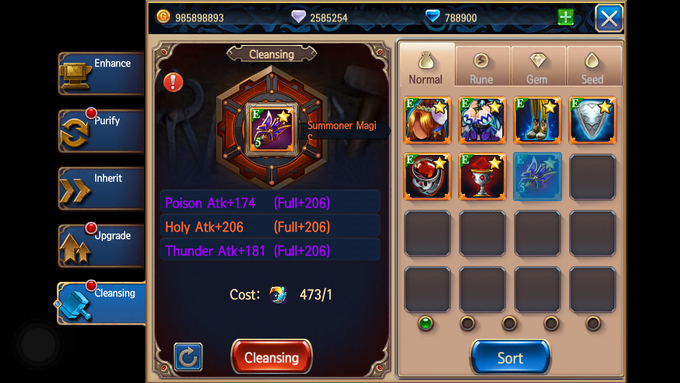 2. Insert a gear into the slot and tap "Cleansing" button, your gear's random attributes will be reset.
a). After every cleansing, statistically 1~3 random attributes will be reset to the other different attributes and different values within the limits.
b). Helmet, Clothes, Shoes, Talisman and Artifact can only have the following attributes: Health, Physical Def, Magical Def, Crit Res, Crit Tough, Fire Def, Ice Def, Thunder Def, Poison Def, Holy Def and Darkness Def. 
c). Finger and Weapon can only have the following attributes: Physical Atk, Magical Atk, Crit Hit, Crit Damage, Fire Atk, Ice Atk, Thunder Atk, Poison Atk, Holy Atk and Darkness Atk.
d). If you are lucky, you may get a maximum value attribute, which is marked as Orange colour.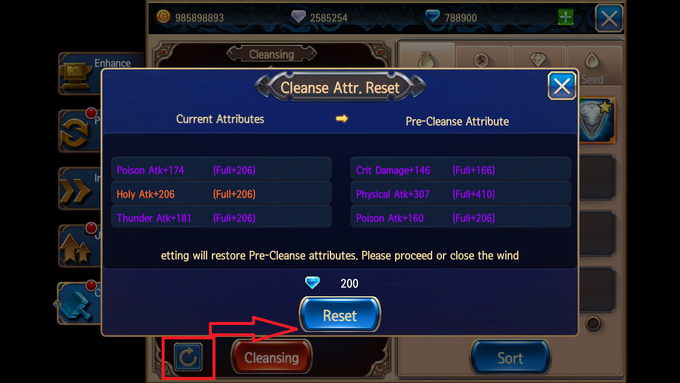 3. After every cleansing, if you are unsatisfied with the result, you can always tap the Restore button to recall back the pre-cleanse attributes you had before (200 Diamonds cost).
4. If your gear already has at least 1 attribute with maximum value, a tip message will remind you before you make another cleansing. Think twice before you proceed, another reset will probably make you lose it.
5. Moon Ice Stone is needed during cleansing, which can be purchased from Secret Realm Store.